News
Call For Support – Ukraine War

"The reality is developing and we are in it."
Maria Stepanowa, in einem Gespräch am 27.2.2022

SUPPORT FOR ARTISTS IN UKRAINE
AND
FOR ARTISTS IN RUSSIA WHO ARE WORKING TOWARDS PEACE

Please contact us if you are able to temporarily provide a workplace for cultural workers who have fled Ukraine or if you know a performing opportunity for a youth jazz band from Ukraine

and:

if you want to donate for artists from/in Ukraine and for peace committed artists from Russia. We will forward the money in a fast and unbureaucratic way and keep all supporters updated.
Bank account: Artas Foundation
IBAN: CH78 8080 8006 3681 9381 2
Note: War Ukraine
Thank you very much for your solidarity!
The team of artasfoundation

More...


Projects

Wishing Wishes
The dance project Wishing Wishes invites young people from Armenia and Abkhazia1 to explore their own wishes and visions, and encourages them to expand their familiar horizons of action and to position themselves independently in relation to the social norms of their home environment. New spaces for play are created in the encounter of traditional folk and national dances of the South Caucasus, which are oriented towards communality, with Western-influenced contemporary dance, with its focus more on improvisation and the individual. Swiss dancers and choreographers work in close collaboration with colleagues from the South Caucasus.

More...
Jour Fixe on Wednesday 18 May 2022, 17h15 CET

artasfoundation invites you to the Jour Fixe on the third Wednesday of every month to discuss ongoing projects as well as issues related to the work of the foundation or political developments in the partner countries. 

It's a hybrid event, taking place both on site at Lindenbachstrasse 21 in Zurich and in virtual space. 

The discussion is held in German or English, depending on the participants.
If you wish to be informed about the agenda each month, please sign up on our Jour Fixe invitation list here.

artasfoundation just won an award!

We were just awarded the Canton of Zurich's Price for our contribution to the widening of the cultural participation in conflict regions. The price honours cultural workers and institutions that are committed to the broadening of access to cultural life. We are humbled that our work was recognised in such a way. The price will help us navigate the difficulties imposed by the pandemic. More...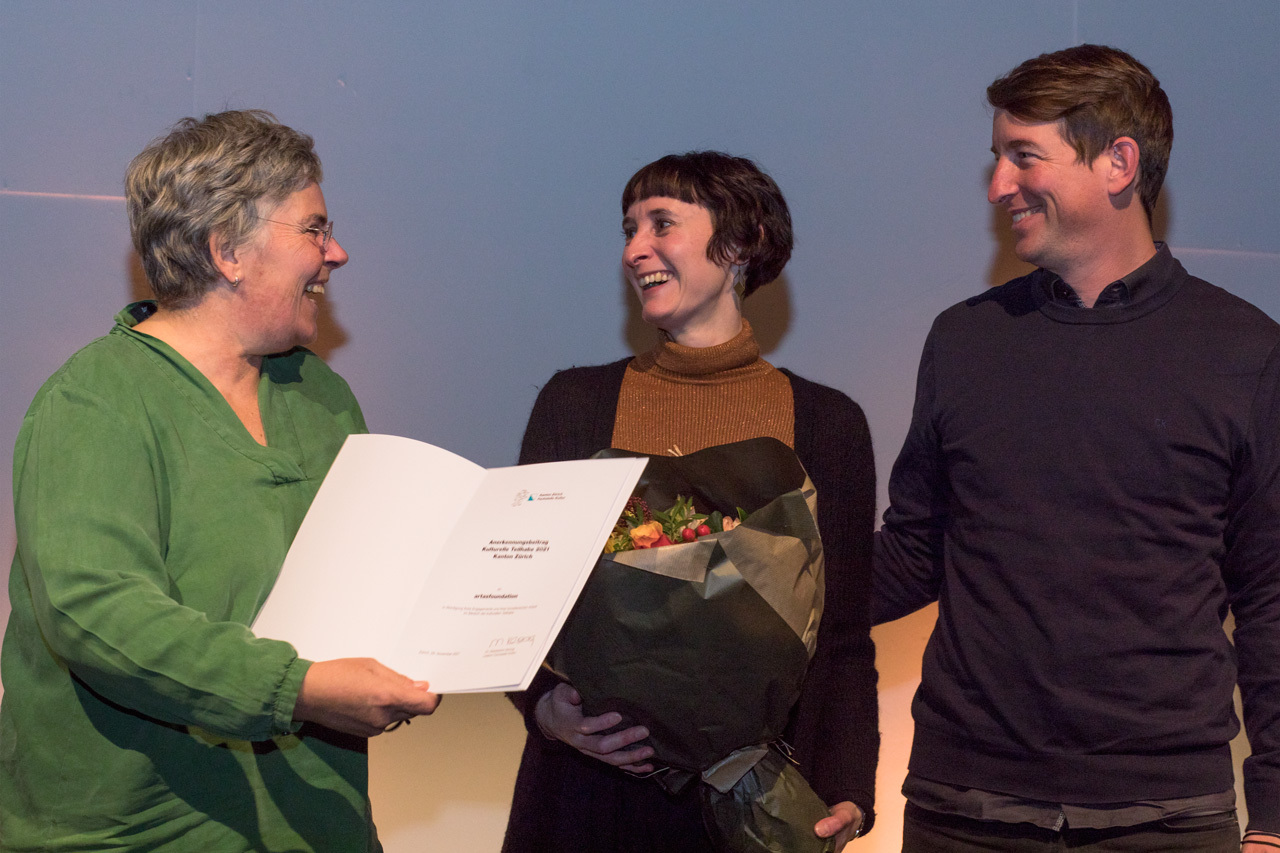 Circular
From the current circular
What We Can Do
Many regions of the world are in turmoil. Where artasfoundation is active, political tensions rise, war rages, artists, colleagues and friends live under threat. What is it that we can do? Here is the beginning of the list we made for ourselves:
(Continue to) heat the artasfoundation office with wood instead of fossil fuels
Resist thinking in terms of broad, blanket categories
Not forget other regions in crisis (Syria, Lebanon, Afghanistan, Yemen, among, unfortunately, many more) despite the relentless flood of news from Eastern Europe
Neither forget the people from those very regions who also seek protection in our countries
Take the long view: the "peace industry" changes its focus quickly. After it has moved on to the next place of acute need, much will remain to be done, especially with art
Find good concert opportunities for the Ukrainian Youth Jazz Band that we have been supporting since their arrival in Bern last March
Assist endangered artists holding Russian passports in applying for Schengen visas
Read as much poetry as news
Arrange private accommodation and workspaces for refugee artists
Continue our planned projects in the Caucasus, where it is possible
Develop new projects drawing on art as a means for mediation in divided societies
Keep in mind how well we are living in Switzerland and reflect on how we can share more
...
Dear friends of artasfoundation, in response to our call after the outbreak of the war in Ukraine, we received financial donations and more than 40 offers of accommodation for people seeking protection. Although we were able to arrange some, the need is not over. As we try to respond to both short- and long-term needs, we do our best to pass on your contributions as wisely as possible. We thank you for your engagement and solidarity!

1artasfoundation would like to underline that its use of names and titles particularly in regards to conflict regions should not be understood as implying any form of recognition or non-recognition by the foundation or as having any other political connotation whatsoever.