Art and Peacebuilding
a
Tskaltubo Hot Pots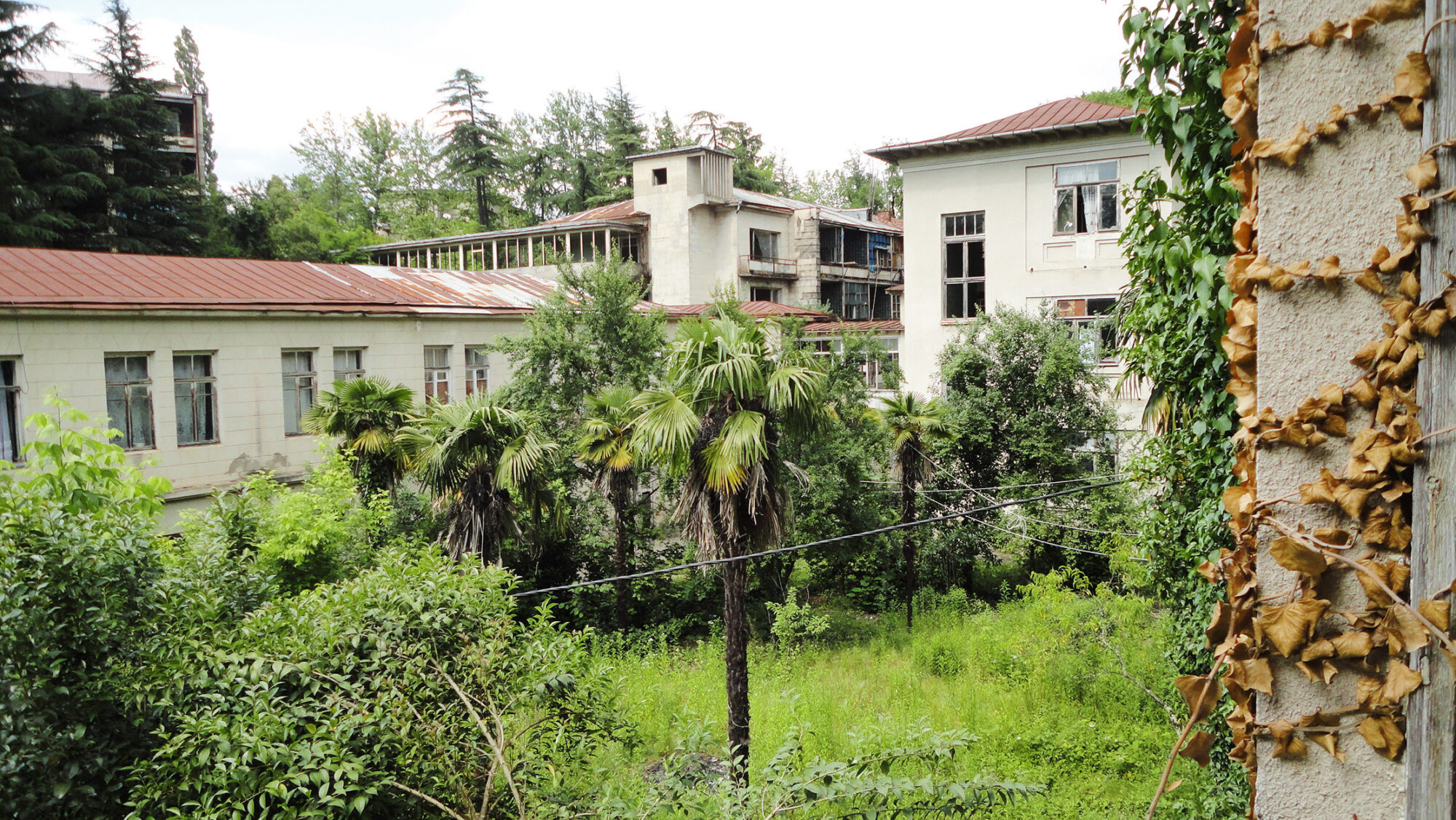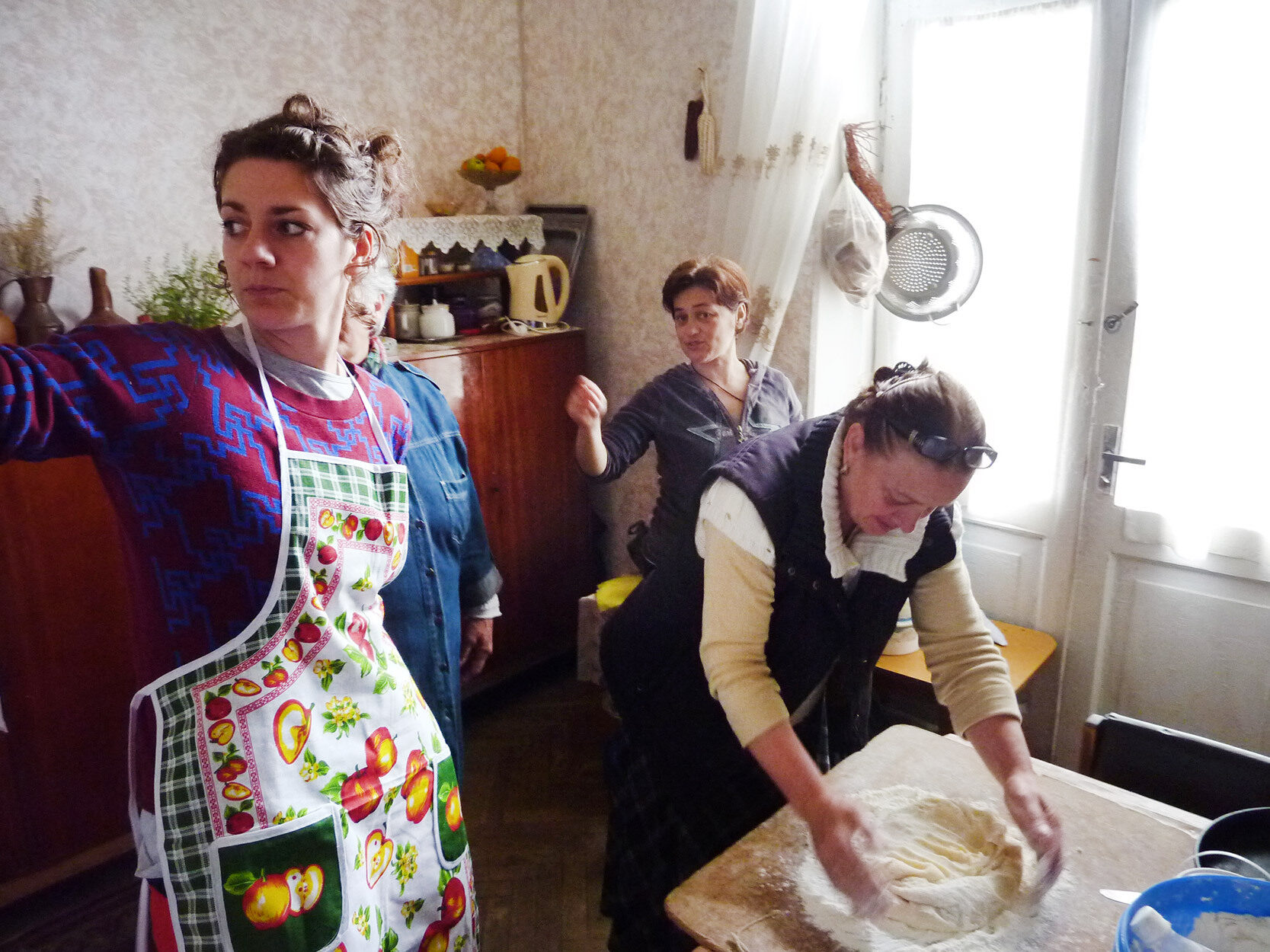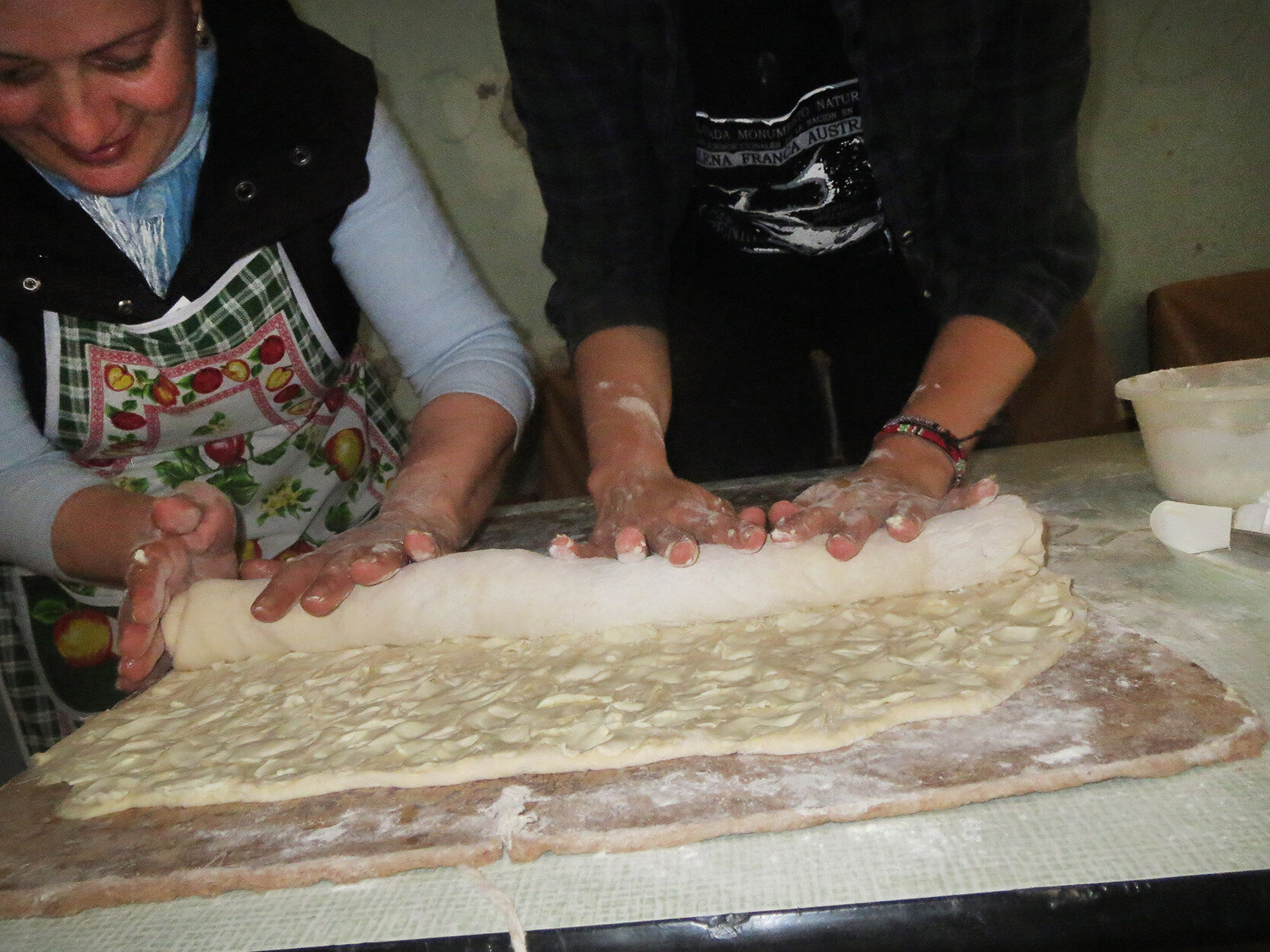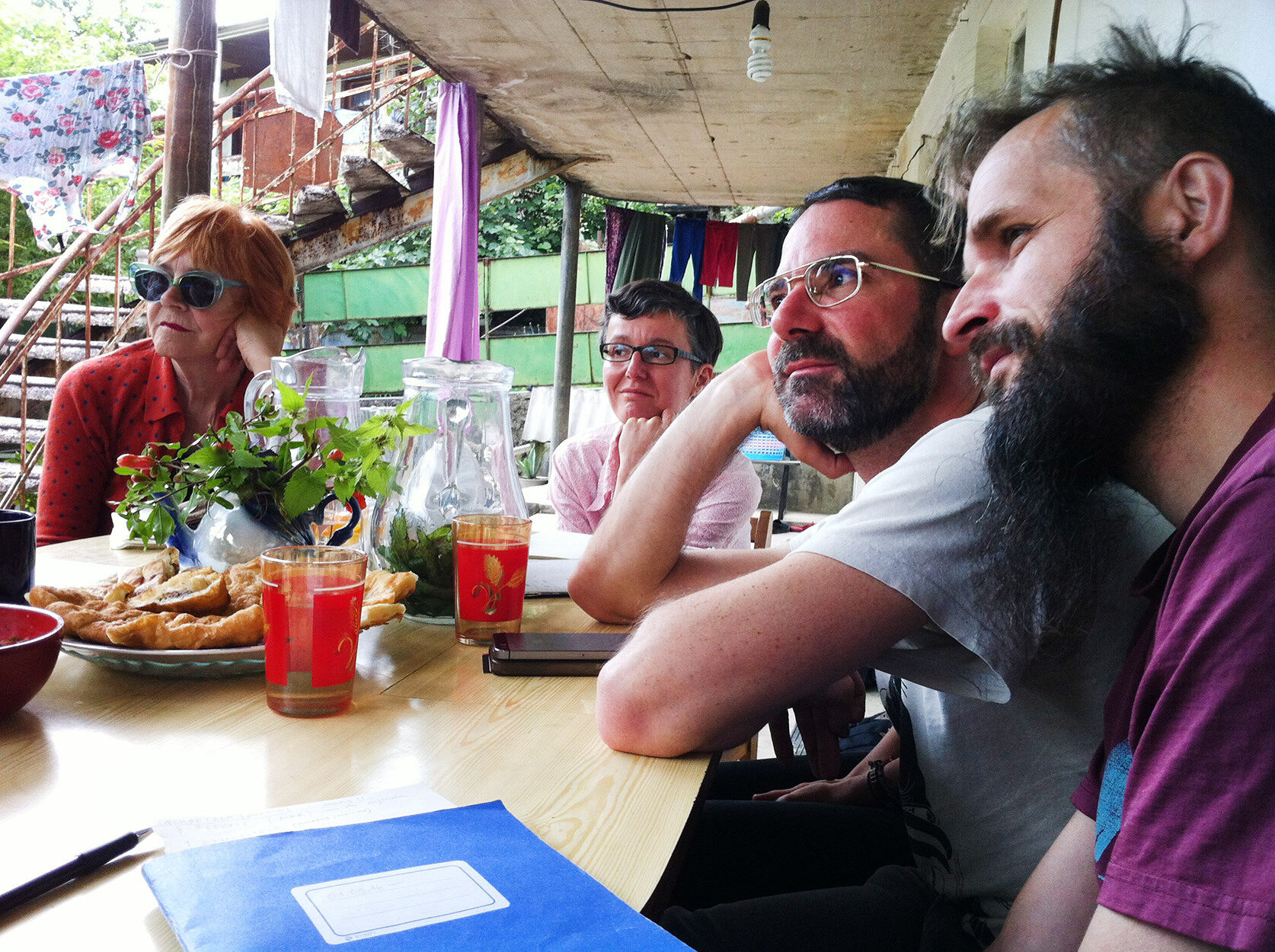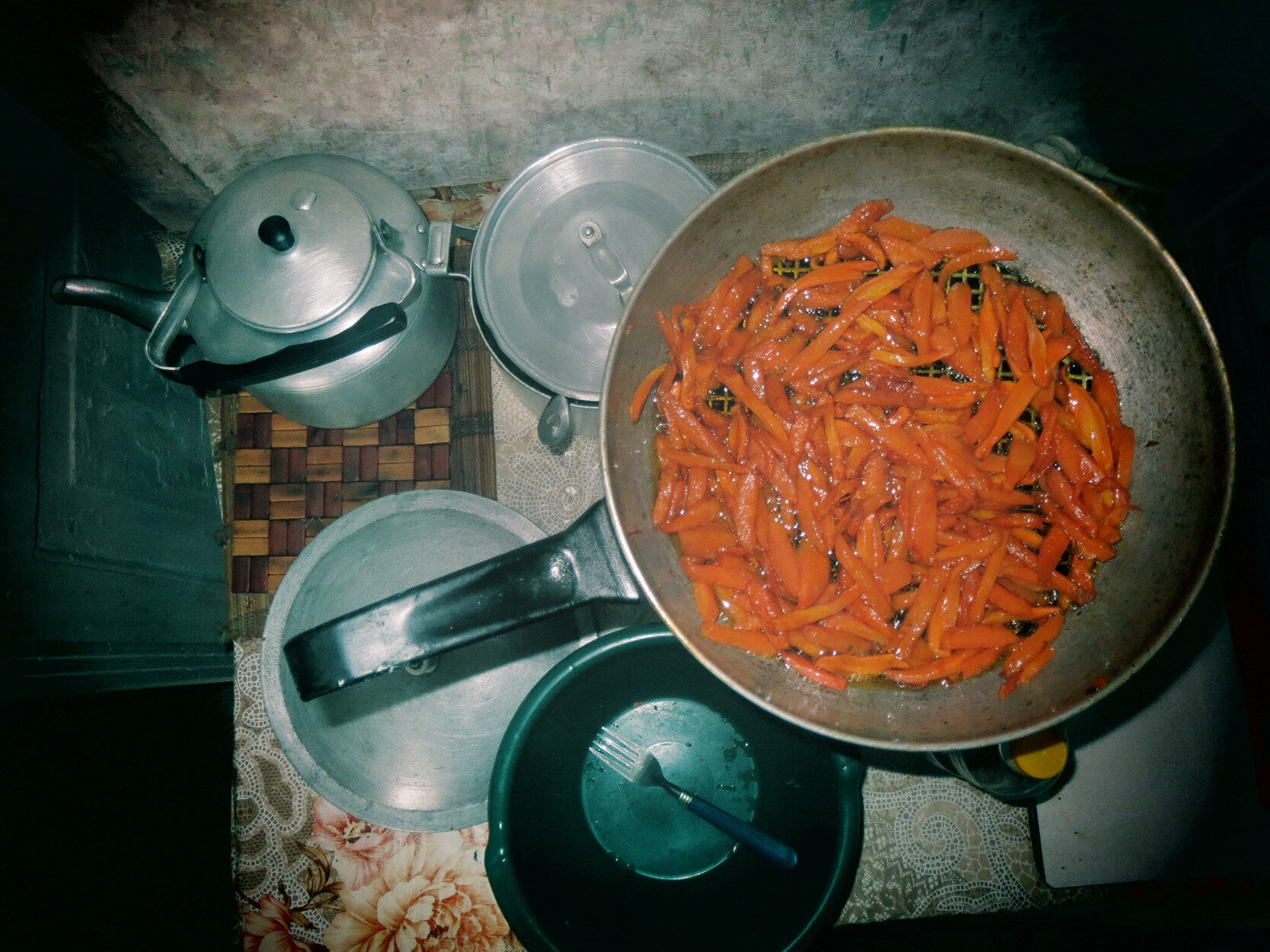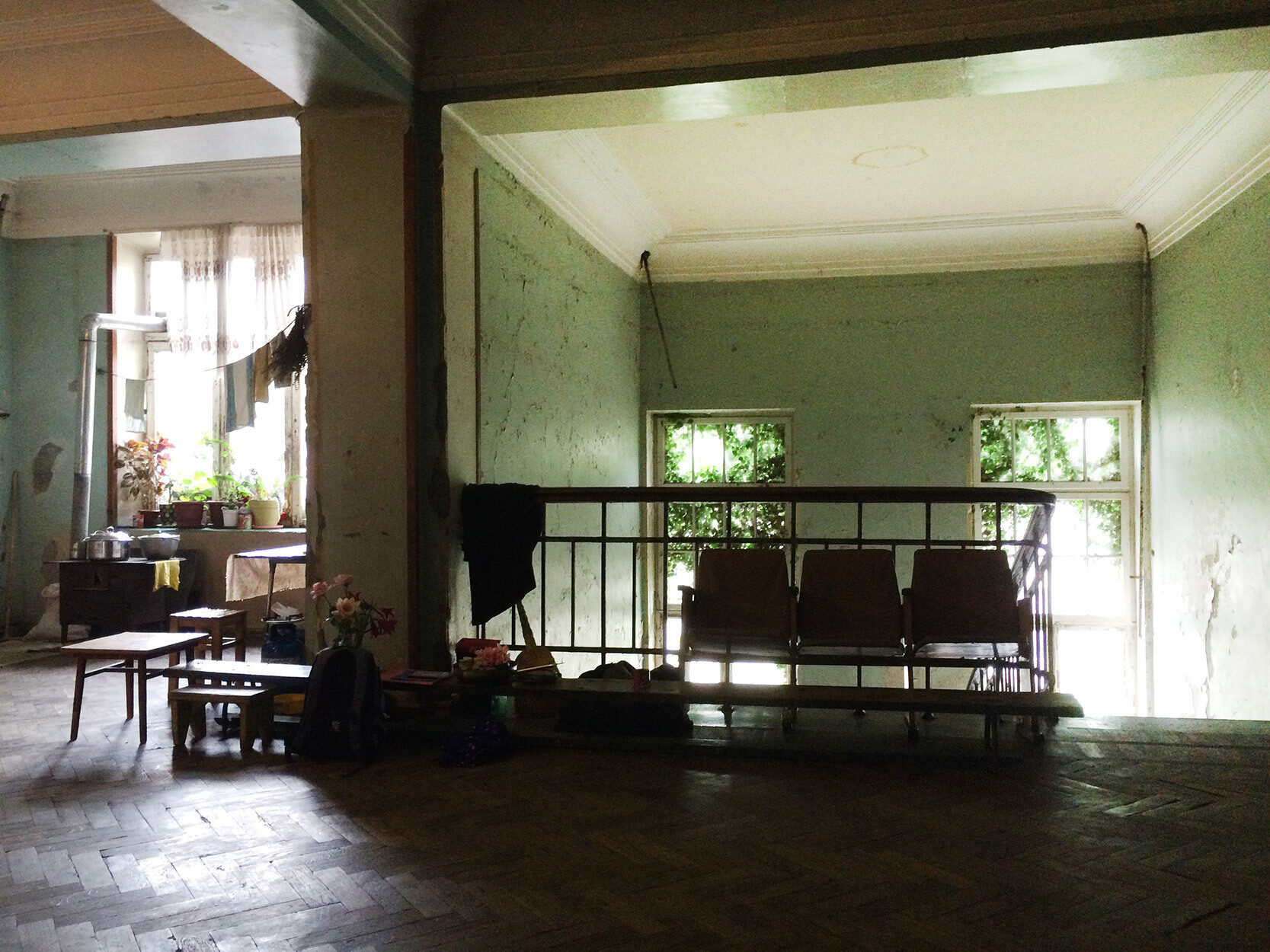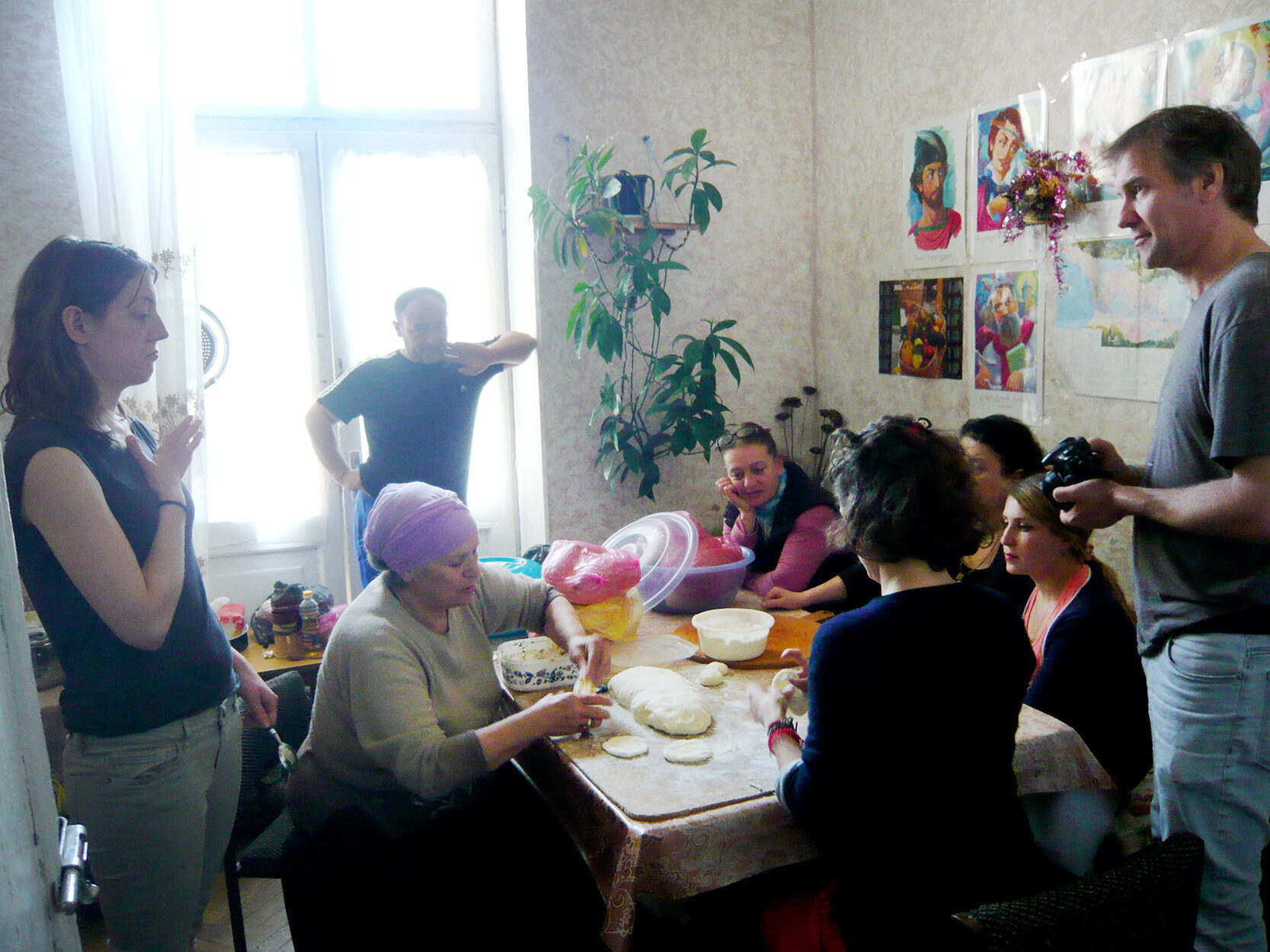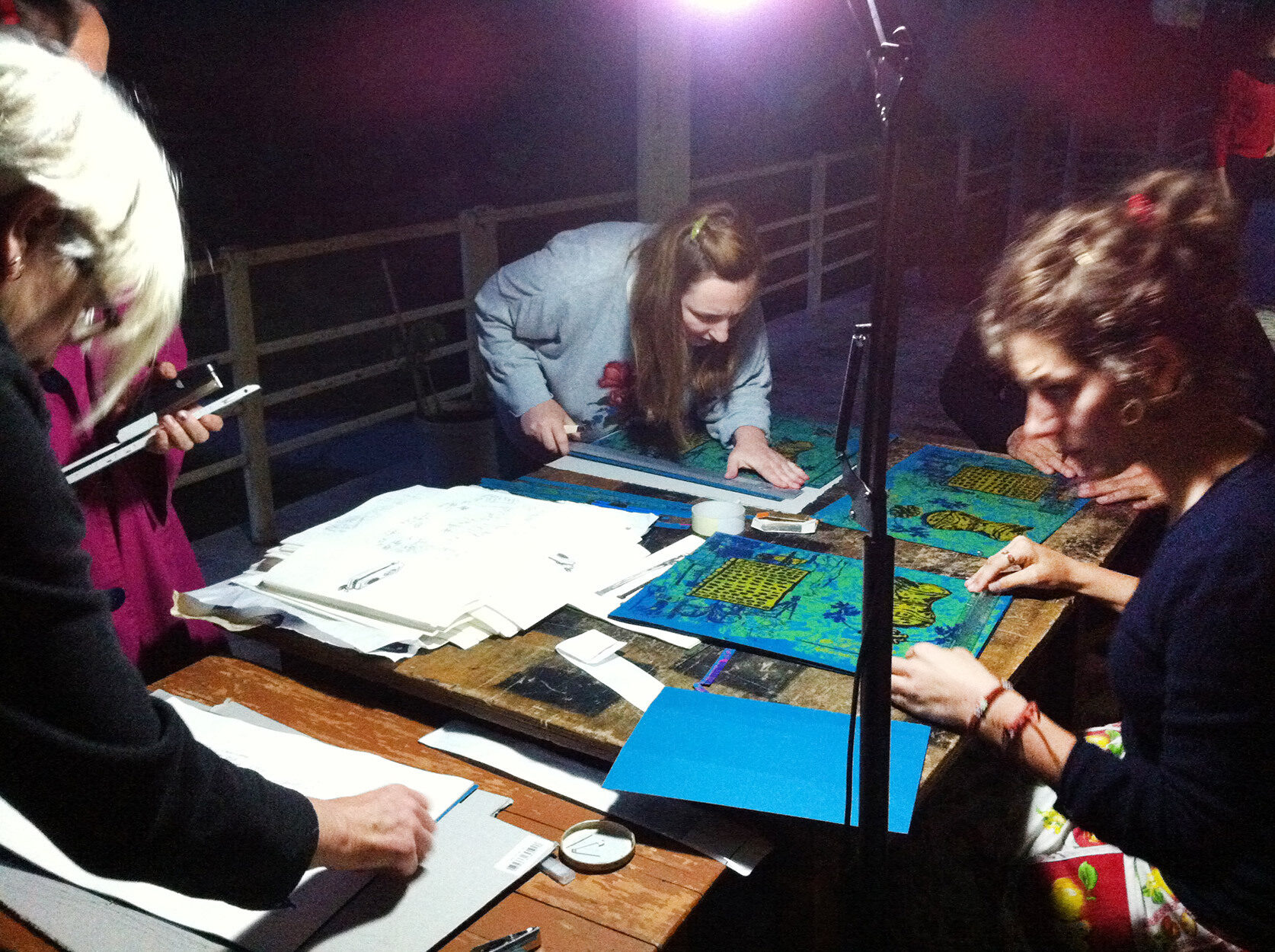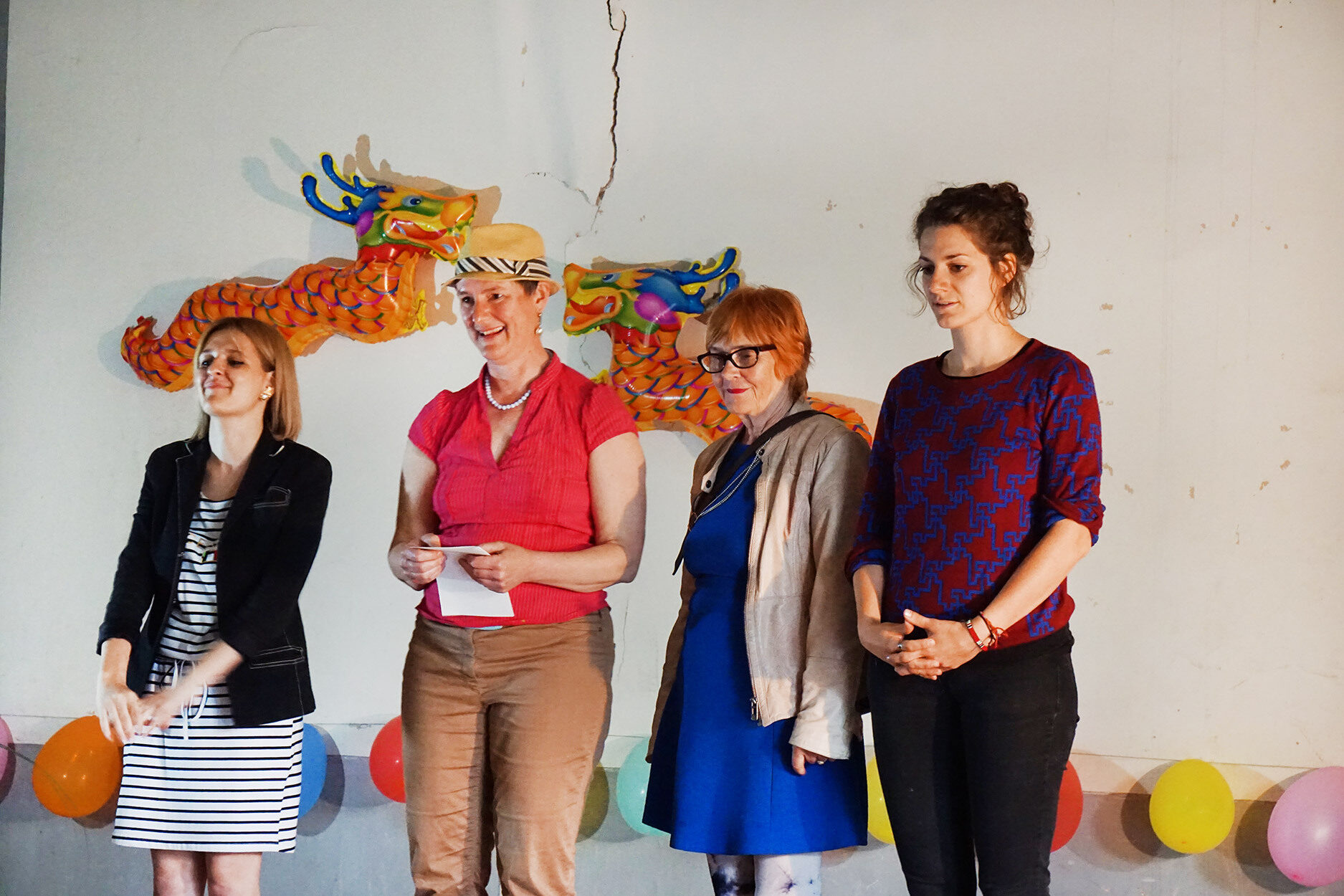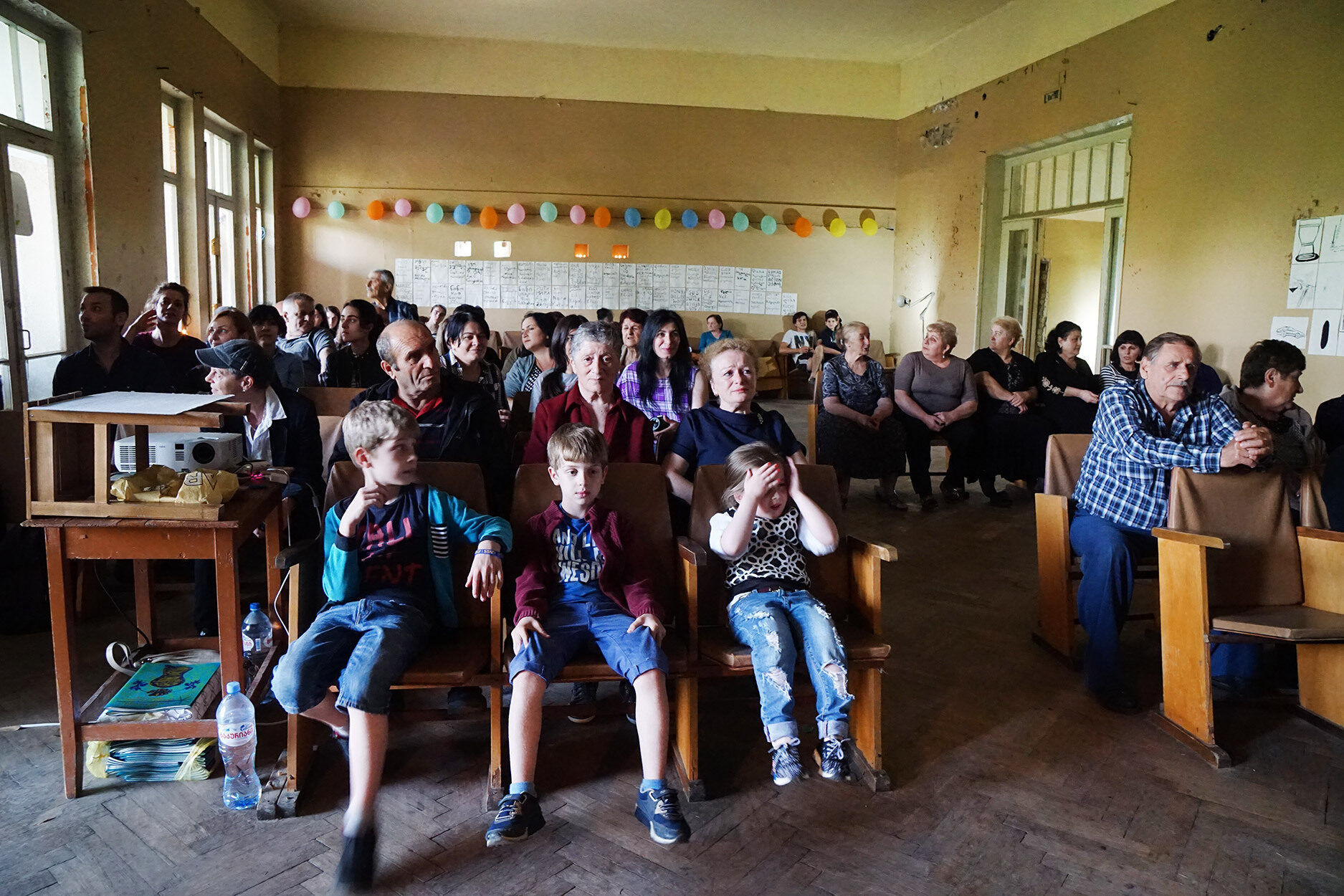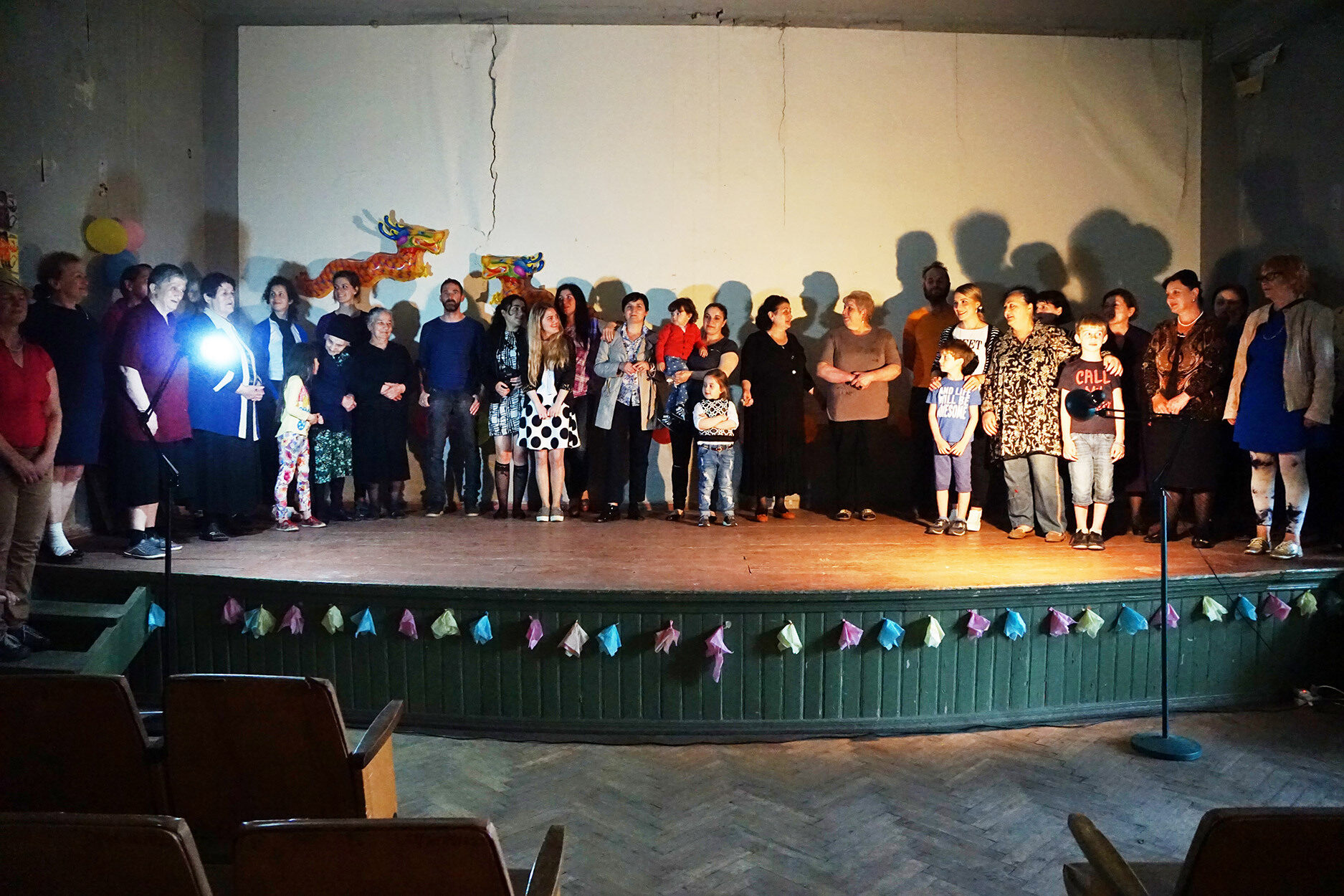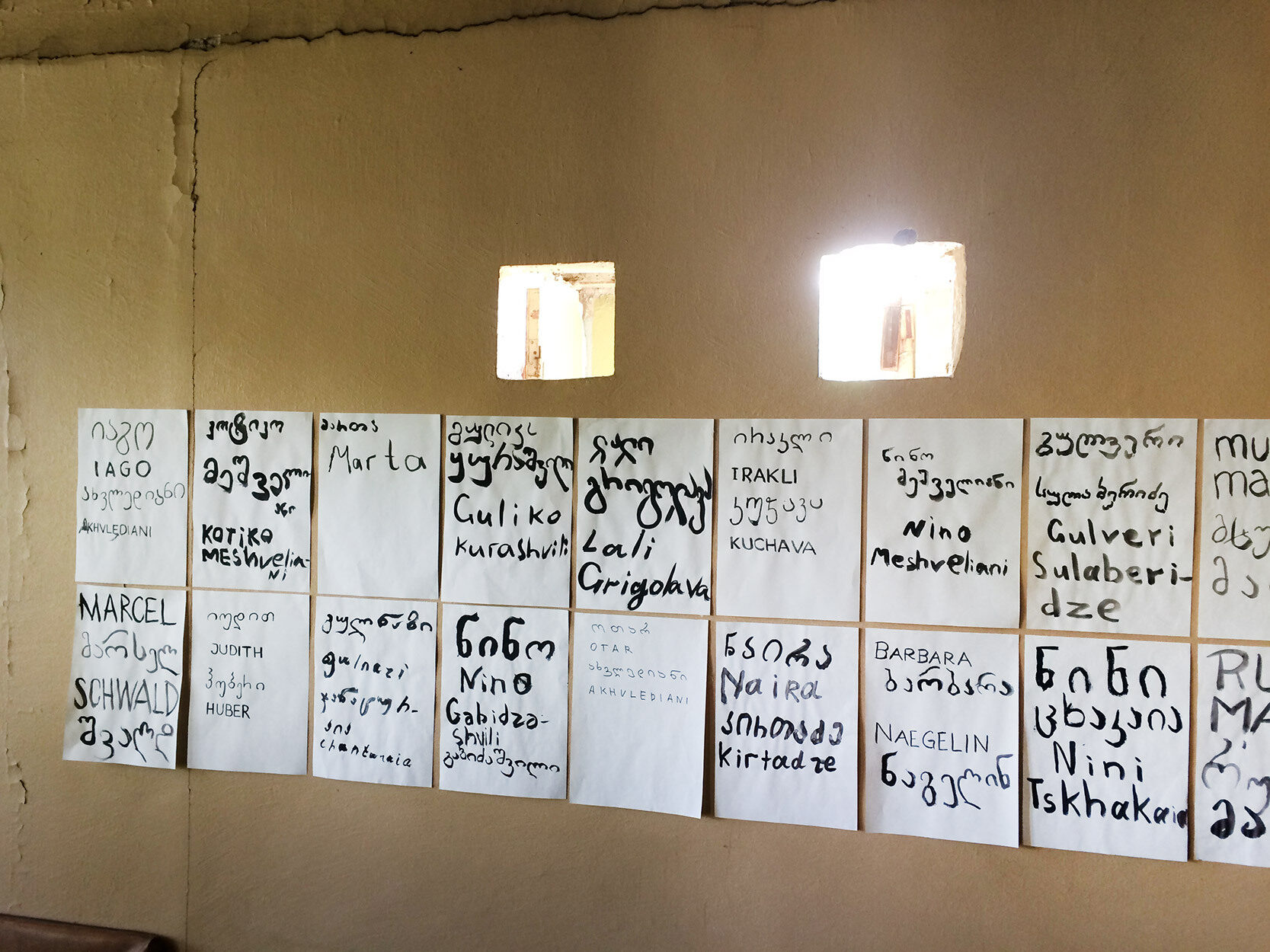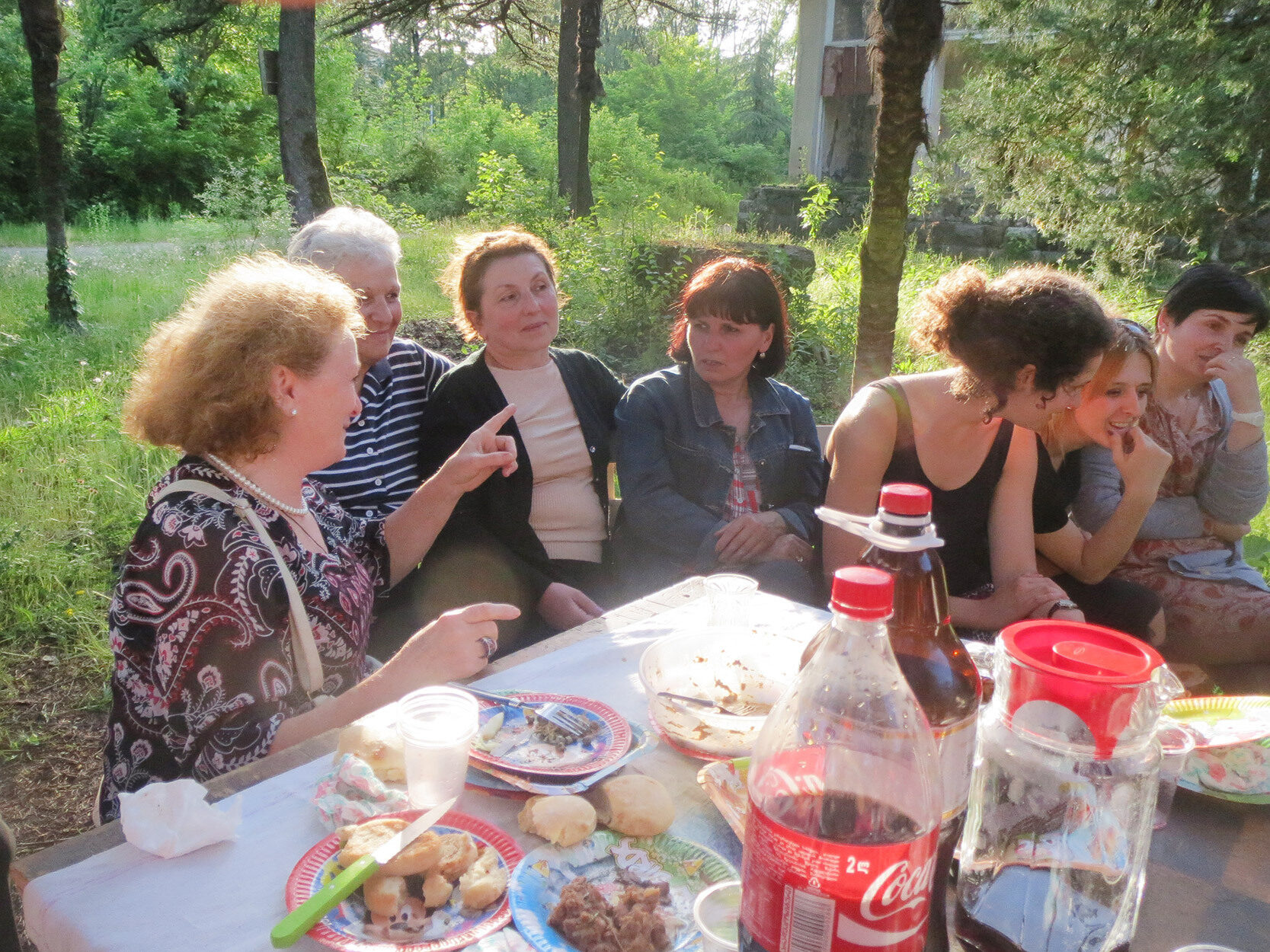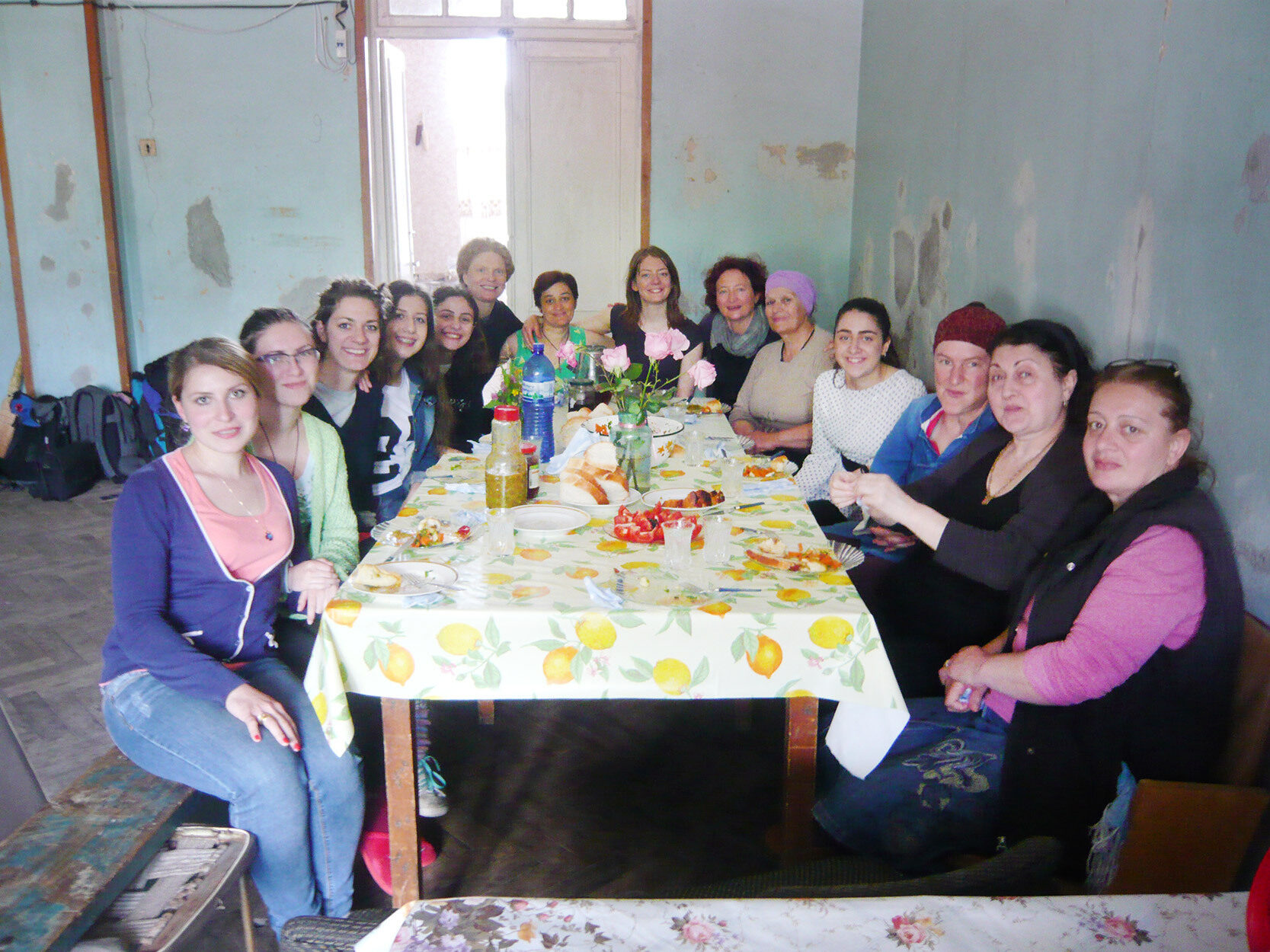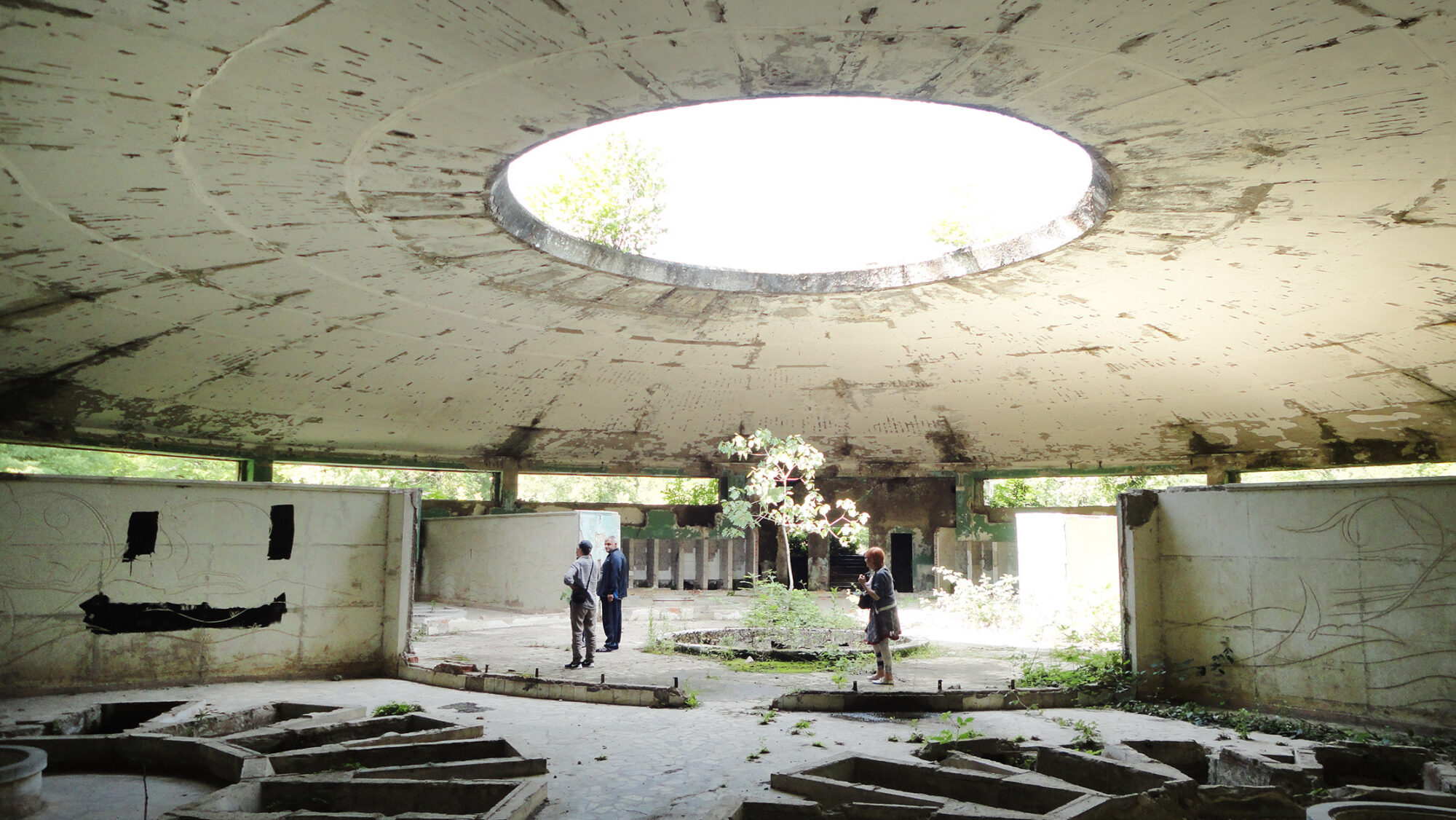 Two Swiss artists and a cook from Germany developed the Tskaltubo Hot Pots project in 2016. A year earlier, they visited the art festival ((insert link)) in Tskaltubo and began to explore ways on how to enter into an exchange with the people who had fled Abkhazia¹ and settled there.
Tskaltubo, a popular spa resort in Soviet times, lies in the foothills of the Caucasus in the Georgian province of Imereti. Since 2013, artasfoundation organised an annual arts festival there with artists from Georgia and abroad.
In 1993, around 12,000 refugees from the war of secession between Abkhazia and the rest of Georgia were provisionally accommodated in the former sanatoriums of Tskaltubo. In the beginning, meals were prepared in the hotel kitchens and distributed free of charge in the former luxurious dining rooms. Later, the residents set up individual kitchens on their balconies and in the bathrooms. The common rooms fell into disuse, the dining rooms became superfluous, and the improvised accommodation in sanatoriums with its marble columns gradually turned into decayed dwellings with leaking roofs and collapsing infrastructure.
Here, Monika Dillier and Andrea Saemann developed Tskaltubo Hot Pots together with the cook Jennifer Mira Ackermann. Supported by artasfoundation, they got in touch with the residents of one of these accommodations, the Tskaltubo Sanatorium, and invited a group of 20 artists from Western Europe to join the project. With the help of translators, they hoped to create a place for cultural exchange and encounters. Together with the residents they wanted to cook, eat, draw, sit and talk, thus transforming the corridors and empty halls of the Tskaltubo Sanatorium into collectively used spaces.
The idea worked. During the five-week project, a kitchen was installed, one cooked together, recipes were exchanged and lunch was eaten together every day. A drawing table was built and pictures and texts were created for a cookbook, which was printed on site, copied and given to all participants. The former cinema of the sanatorium, the so-called Klubi, was revived for the release of the publication, the presentation of the project video and a closing party with stage and screen. But this describes only the immediately visible side of the project. There was another side: the traces of encounters and exchanges in the minds and hearts of all those involved. New insights, new impulses and perhaps also new friendships.
Project publication (Georgian/German)
Project publication (Georgian/English)
Video
Place and year
Tskaltubo, 2016
Participants from the Tskaltubo Sanatorium
Ia Akhvlediani, Iago Akhvlediani,
 Otar Akhvlediani, Neli Akhvlediani, Marina Asatiani, Gia Bakradze, Teo Bandzeladze, Adelko Chakvetadze, Gulnazi Chanturaia, Nunu Chorgoliani, Daria Chorgoliani, Julieta Chorgoliani, Tsitso Tskhvaradze, Nino Gabidzashvili, Nora Kakulia,
Nana Kharchilava, Naira Kirtadze, Lili Kopaliani, Gulveri Sulaberidze, Dali Tutitsani, Nino Meshveliani, Marta, Kotiko Meshveliani, Guliko Kurashvili
Participating artists
Lukas Acton, Nicole Boillat, Lisa Fuchs, Ina Hess, Gisela Hochuli, Judith Huber, Jana Kischkat, Fränzi Madörin,
 Ruth Marx, Muda Mathis, Barbara Naegelin, Chris Regn,
Marcel Schwald, Inga Shalvashvili, Sus Zwick
Interpreters
Diana Murashko, Irakli Kuchava, Kristi Kutateladze, Khatia Jishkariani, Nini Tskhakaia
Project management
Jennifer Mira Ackermann
Monika Dillier
Andrea Saemann
Partner organisations
IDP-Women's Association of Tskaltubo (Leitung: Lali Grigolava)
Tskaltubo Art School (Avto Djibuti)
Gallery Nectar, Tiflis (Nino Sekhniashvili)
Gruppe Tischgespräche, Basel
Publication
Graphic design Edit (Nicole Boillat)
Envelope design and screen printing: Lukas Acton
Editing Jean-Marie Clarke, Tamara Janashia, Guliko Tsivtsivadze
¹artasfoundation would like to underline that its use of names and titles particularly in regards to conflict regions should not be understood as implying any form of recognition or non-recognition by the foundation or as having any other political connotation whatsoever.